Learning and Collaboration
Students will see everything clearly with the vibrant ProColor interactive flat panel display. Choose from the 65", 75", and 86" models, offering all the features of a touch-driven interactive whiteboard with the simplicity and elegance of a state-of-the-art, native 4K UHD display.
CREATE & PRESENT LESSONS, ANYWHERE
Teachers can use and save content directly from their Google Drive or Office 365 cloud storage systems. Additionally, present these same materials as an interactive lesson directly in the cloud using MimioConnect, blended learning platform.
CONTINUE TO USE YOUR FAVORITE LESSONS
No need to recreate your favorite lessons. Using MimioStudio, MimioConnect, or OKTOPUS you can open, play, and enhance activities created in programs such as SMART notebook, ActivInspire, PowerPoint and much more.
Learning and collaboration made brilliant!
Choose the interactive display that meets your needs
We offer a range of flat panel displays to fit your goals and budget.
Discover MimioConnect
MimioConnect® combines innovative lesson building and instructional tools to create an active learning environment. Teachers and students can connect from anywhere making this a perfect solution for distance, flipped or blended learning environments.
CleverLive
CleverLive is a rich cloud content management platform that empowers users to manage content using any internet device anywhere in the world.
Choose from hundreds of templates
Broadcast dynamic content images, posters, videos, social media, live tv, rolling text and more
Send content to a single screen or to multiple screens across multiple sites simultaneously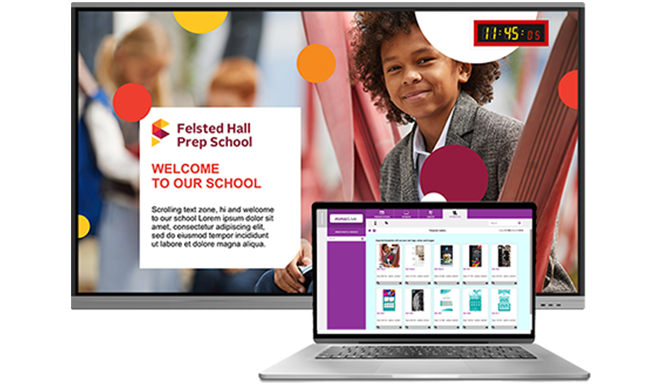 Your ProColor Interactive Display comes with a collection of classroom apps, making it a complete teaching and learning solution.
Teacher Tips – Video Gallery
TEACHER TIPS
ProColor Interactive Flat Panel
TEACHER TIPS
Infinite Whiteboard Canvas & Eraser Tips
TEACHER TIPS
Changing Annotations for Enhanced Interactions
TEACHER TIPS
Working with Images
Bottom of the page anchor section