Welcome to Our BIG Guide to STEM Education!
We want educators to feel comfortable about integrating STEM curriculum in teaching - we want YOU to feel confident and competent. We've put together STEM education focused information from several educators who know a thing or two about STEM (as well as STEAM, and even ST2REAM!). The objective of providing this content is to help you prepare today's students for the jobs of tomorrow. If you have limited time, bookmark this page and come back as many times as you need. You can also download our Big Guide to STEM where you'll find most of this information listed on this page.
STEM Education: Why It Should Be a Priority
If the last few years have taught us anything, it's that how we deliver quality instruction can change overnight. This truth is clear evidence that STEM education plays a key role in how we help shape our future workforce who have had to rely more and more on STEM-based tools to learn. But, are we as focused as we believe we are? According to the White House Office of Science and Technology Policy (OTSP), educators, families, and students still don't receive the holistic support they need to engage and maintain lives of discovery, especially in grades K-12. The current administration is focused on improving STEM education and opportunities and we want to support that mission.
In the Big Guide to STEM, we dive into a variety of ways to incorporate STEM teaching and learning; how to better engage students during STEM lessons and activities to foster key 21st century skills like critical thinking, collaboration, and problem solving; and explore different STEM products that are changing how we see interactive learning. You'll also find our collection of top 10 STEM lists for just about everything STEM education. Need a dynamic math or science app? We've got a list of apps. Need funding help like grants and awards? We've got a list. Want to read some informative blogs or join a STEM-focused community? We've got those lists, too!
Ready? Scroll Down to Start Reading!
If you would like to download this to read later, submit your email and we'll send you a copy!
Why STEM Is Critical for Today's Students

Kristy Nerstheimer, Elementary Teacher: Kristy is an elementary teacher in Overland Park, Kansas. She has been a classroom teacher for over 20 years and has a Master's Degree in Curriculum and Instruction.
At the forefront of education today is STEM (science, technology, engineering, and math), also known as STEAM (adding an A for arts), and even more recently as ST2REAM (adding a second T for thematic teaching and R for reading). The Department of Commerce has indicated that STEM occupations are growing at a rate of 17%, compared to 9.8% in other professions. In short, there will be more STEM positions than any other field. STEM is now the driving force of our future, and we have to prepare our students for a workplace vastly different from today. To put things in perspective, here is a quick glance at areas in need of STEM knowledge:
In the science field, there are issues with global warming/climate change, weather, air, space, and medicine, such as cancer and Alzheimer's.

Technology covers computers, cell phones, tablets, TVs, and the digital age.

Engineering includes infrastructure, buildings, cities, bridges, and designs.

Math skills are involved in banking, economy, accounting, investments, and taxes.
In order to remain a world leader, we need to send students out into the workforce equipped with these skills. However, our nation's test scores are behind in math and science. The 2015 results of the Programme for International Student Assessment (PISA) indicated that the US ranked 38/71 in math and 24/71 in science. By implementing STEM education into the classroom, the hope is to develop more passion and knowledge, which, in turn, will supply our economy with competent employees.
The Many Benefits of STEM Learning
The good news is that STEM covers a multitude of necessary skills: hands-on, critical thinking, problem solving, student-driven, creativity, innovation, collaboration, inquiry, leadership, and teamwork. STEM integrates the curriculum—teachers are no longer just presenting a math lesson, then a science lesson, then a reading lesson, etc. Classrooms are implementing units or themes centered around different science subject matter. For example, kindergarteners are learning about structure and design through literature such as The Three Little Pigs. The story is read and students ask questions, such as "How could those little pigs have built a more secure structure so that nasty wolf couldn't have blown down those poorly constructed houses?" Then students design and build their own structure and the big bad wolf (accompanied by a leaf blower/hair dryer) tries to blow it down. Content from all subject areas are needed for this unit: reading and writing for the basic premise and design, math to calculate measurements or supplies, soft skills like collaboration and communication to build the structures, technology can be used throughout by video recording of before and after attempts so students can go back and redesign—all under the umbrella of a science-driven theme. Students are engaged and problem solving throughout, and they love it.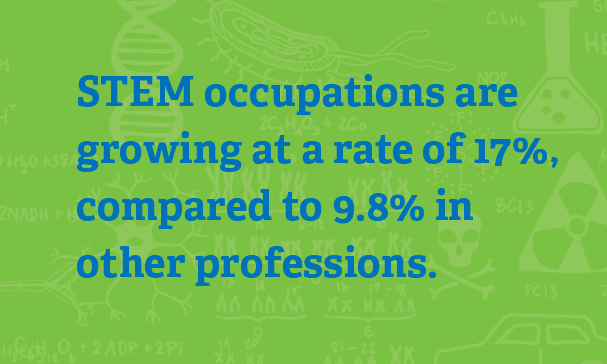 Another benefit of STEM education is brain development. The human brain functions best by making connections. The brain needs both socio-emotion and cognition to function. STEM teaches many soft skills such as teamwork, problem solving, communication, and self-confidence. STEM also allows for hands-on experiences for students. Using more sensory experiences maximizes these connections and takes the learning process to a higher level. This kind of engagement and integration stimulates brain development, allowing for more depth in a shorter amount of time. The earlier that STEM can be brought into the classroom, the better—it can lay the foundation for optimal learning and brain growth.
We Need to Engage Girls in STEM
On another note, the need for women in these STEM professions is essential. Stereotypes place girls in humanities-type professions as early as five years-old, thanks to all those toys geared toward mothering and nurturing. There are fewer women in STEM. There are fewer women in STEM professions than those in other professions. This means fewer female role models in STEM fields which leads to less interest. Presently, women only make up less than 25% of the workforce in STEM professions. STEM professions earn 26% more than non-STEM professions and currently, a woman makes just 77 cents to every dollar her male counterpart earns. More single parents are mothers, making the wage gap even larger. Adding more women to the math and science industry would offer a better balance of skilled professionals. Girls may feel less capable in math and science, so it is critical to encourage our girls with the can-do attitude needed to feel competent in these fields. Offering more science- and math-related activities in a more engaging and fun manner will help pique interest and desire. Everything on this planet is somehow related to science—most decisions and designs involve some type of STEM. STEM education is all about creating innovative, critical thinkers in a global society. It strives to integrate these concepts to make learning more meaningful and engaging. In doing so, students will be able to ask questions, problem solve, obtain, evaluate, and interpret information, as well as have the perseverance needed to get the job done.
Want Some Ideas for Inspiring Girls in STEM?
Read our "Inspiring Our Next Generation of Female STEM Pioneers" article on our Mimio Educator Blog that outlines 5 tips on sparking the interest of girls to pursue stronger involvement in STEM.
"The important thing is to never stop questioning."
Albert Einstein
Role Models To Inspire The Next Generation Of Stem Leaders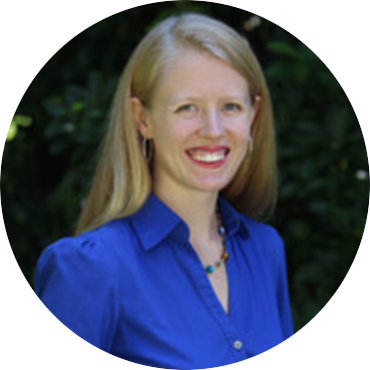 Author: Hannah Olson, Product Manager and Co-Founder, MyStemKits.com
Hannah Olson is part of the MimioSTEM team at Boxlight, fell in love with 3D modeling, or the process of building/sculpting objects in 3D space while attending one of the finest film schools in the nation – Loyola Marymount University in Los Angeles. When she graduated at the top of her program, Hannah heard of an idea that was just starting in Florida and moved across the country to start what would become MyStemKits.com. Although it was nothing like building the epic dragons she had envisioned, it was a chance to give back and do something that really made a difference.

Co-Author: Melizza Cuizon, Content Creator
Melizza Cuizon is a former elementary classroom teacher, Literacy Coordinator, and Instructional Math Coach for the Los Angeles Unified School District, the largest public school district in California and 2nd largest public school district in the U.S. She is also an experienced curriculum developer, specializing in elementary-level math, but also writing elementary science, and basic English language acquisition for primary-age English Learners.
Designed to spark interest and motivate learners to explore STEM subjects, our MimioSTEM solutions also focus on building representation. Our MyStemKits design challenges feature diverse professionals, including a female designer of STEM content and instructional videos, and when we utilize names in our content, we are intentionally inclusive. While integrating STEM instruction in your classroom, incorporate the influence of the following STEM figures in class discussions and research.
Cornelia Bargmann
A neurobiologist, Bargmann is recognized as a leading researcher on Alzheimer's disease, autism, and depression. Working with roundworms, she manipulates their genes to study how neurons and genes affect behavior. Pair With: Brain Anatomy Kit, Chromosome Beads Kit
Maria Beasley
A serial inventor, Beasley contributed to many inventions, the most notable of which was an improved life raft with guard rails (as opposed to the typical flat raft of her day). Moreover, her design was fireproof and foldable for easy storage. Pair With: Boats Kit, Carrying Cargo MEA (PBL)
Melitta Bentz
A German entrepreneur who invented the paper coffee filter brewing system. By combining blotting paper and a metal filter, she created the first drip-brew coffee filter where the user need only pour water over the grounds to brew, which simplified the coffee-making process – a welcome change in comparison to the options available at the time.
Deepika Kurup
An inventor and scientist, Kurup has been working for years on a solar-powered water purification system aimed at providing clean water worldwide. This young inventor understands the important role water purity plays in stopping disease and has been recognized for her life-saving work. For both Bentz and Kurup, pair with: Water Filtration Kit and Labdisc Portable STEM Lab
Tim Berners-Lee
Berners-Lee is credited as the inventor of the World Wide Web (www), enabling the first Web browser and Web server. While implementing the WWW project, he and an assistant developed the Uniform Resource Identifier (URI), Hypertext Transfer Protocol (HTTP), and Hypertext Markup Language (HTML). Pair With: Flow Chart Stencil Kit, Logic Gate Stencil Kit, and MyBot Robotics
Katharine Blodgett
A physicist and chemist, Blodget worked on several inventions including gas masks, smoke screens, methods for de-icing airplane wings, and low-reflection glass. Thanks to her contributions, we have reliable camera lenses, microscopes, telescopes, computer screens, windshields, and eyeglasses. Pair with: Gliders Kit, Gliders & The Pythagorean Theorem
Dr. Patricia Bath
An ophthalmologist, inventor, and humanitarian, Bath is the first woman, African American medical doctor to receive a medical patent. She invented a laser cataract treatment device – the Laserphaco Probe - which paved the way for laser eye surgery. For both Blodgett and Bath, pair with: Microscope Phone Adapter Kit, Wave Impact Alert!
George Washington Carver
One of the most prominent African American scientists in the early 20th century, he is well-known for promoting alternative crops to cotton, such as peanuts and sweet potatoes, and advance methods to prevent soil depletion. He worked to improve the lives of farmers and advocate for preserving the environment. Pair With: Labdisc Portable STEM Lab, Urban Ecology Kit
Dr. Fe del Mundo
A Filipina pediatrician founded the first pediatric hospital in the Philippines, was the first woman president of the Philippine Pediatric Society, first woman named as National Scientist of the Philippines, the first Asian to be elected president of the Philippine Medical Association, and first Asian elected president of the Medical Woman's International Association. She is credited with inventing an incubator made of bamboo for use in rural communities without electrical power. Pair With: Human Body Kit, Human Allometry Kit
Joseph Engelberger
A physicist, engineer, and entrepreneur who is widely credited as the 'father of robotics.' Collaborating with inventor, George Devol, Engelberger developed the first industrial robot in the U.S. Introduced the HelpMate mobile robot hospital courier which to this day, versions of the HelpMate are used to transport equipment, laboratory specimens, pharmaceuticals, laboratory specimens, meals, medical records, etc. within a hospital. Pair With: MyBot Robot
Dr. Aprielle Ericcson-Jackson
Ericcson-Jackson is an award-winning aerospace engineer, the first African American woman to receive a Ph.D. in mechanical engineering from Howard University, and the first African American woman to receive a Ph.D. in Engineering at NASA Goddard Space Flight Center. One project in which she has contributed was the Tropical Rain Measuring Mission that provides data on El Nino and La Nina atmospheric phenomena and their effects on crop production. Pair With: Dropsonde Kit, Labdisc Portable STEM Lab – What's it Like Out There?, MyBot Robot – Stabilized Direction Control, Rockets Kit, Space Shuttle Kit
Dr. Sylvester James Gates, Jr.
A theoretical physicist who researches and speaks about his findings on supersymmetry, supergravity, and superstring theory. In 1984, he co-authored Superspace the first comprehensive book on the topic of supersymmetry. In 2006, he completed a DVD series – "Superstring Theory: The DNA of Reality" consisting of 24 half-hour lectures so that the complexities of unification theory are comprehensible to non-physicists. Pair With: Labdisc Portable STEM Lab
Olga Gonzalez-Sanabria
A scientist and inventor who was instrumental in the development of the Long Cycle-Life Nickel-Hydrogen Batteries that enables the power systems of the International Space Station. Because the station relies on solar power, the batteries are especially important when the earth blocks the sun's rays during the dark portion of the earth's rotation. Pair with: Space Station Kit, Space Station Modules Design Challenge, and Space Station MEA (PBL)
Ellen Fitz
A governess, later inventor, Fitz designed and invented a terrestrial globe mount that could display the earth's rotation related to the path of the sun at various times of the day and night, around the globe, throughout the year. Pair With: Continents Kit, Earth Kit
Ada Lovelace
A mathematician and writer who expanded on the work of Charles Babbage to write the world's first computer algorithm and is known as "the first computer programmer." Pair With: Logic Gate Stencil Kit, Flow Chart Stencil Kit, Binary Kit, MyBot Robot
Mario Molina
Molina was a Nobel Prize-winning Mexican chemist who helped discover the Antarctic ozone hole, which highlighted the thread to the Earth's ozone layer from chlorofluorocarbons (CFC) gases. In his research with F. Sherwood Rowland, predicted that chlorine atoms, produced by the decomposition of CFCs, act as the ongoing catalyst for the destruction of the ozone and beyond to the stratosphere. Pair With: Planetary Temperature Kit, Labdisc Portable STEM Lab – What's it Like Out There?
Dr. Janet L. Norwood
Dr. Norwood was an American statistician who was the first woman to accomplish many feats within her field. She was the first female Commissioner of the U.S. Bureau of Labor Statistics (BLS) and was either appointed or reappointed to positions of leadership on advisory councils by numerous presidents and received numerous awards for her work. She focused on Labor and Unemployment data and ensured that the data was shared with integrity, impartiality, and professionalism to the American people. Pair With: Continents Kit, Earth Kit
Ellen Ochoa
An engineer, Ochoa became the first Latina astronaut in space when she served on the space shuttle Discovery in 1993. She was also the former director of the Johnson Space Center, only the second woman to do so as well as the first Latina to do so. Pair With: Continents Kit, Earth Kit
Grace Murray Hopper
A computer scientist and United States Navy Rear Admiral who helped design Harvard's Mark I Computer and invented a compiler that could translate written language into computer code, making it much easier to program! She was instrumental in defining the new universal programming language, COBOL.
Mary Sherman Morgan
A chemist who worked on improving explosives during WWII. She later went on to work on rocket propellants and is the inventor of Hydyne Rocket Fuel, which propelled America's first satellite, Explorer 1, into orbit. Pair with: Rockets Kit, Bivariate Rocket Launch LP; Houston, We Have an Engineer Design Challenge and Rocket Bodies, Lift Off! Design Challenge For both Hopper and Morgan, pair with: MyBot Robotics lessons, Binary Kit, Logic Gate Stencil, Flow Chart Stencil, Tessellation Tiles: An Introduction to Codeblocks Design Challenge, Coding Custom Clocks Design Challenge
Dr. Warren Washington
Dr. Washington is a distinguished, multi-award-winning scientist and internationally recognized expert in atmospheric sciences and climate research specializing in computer modeling of the Earth's climate. In 1997, he was awarded the Biological and Environmental Research Program Exceptional Service Award for Atmospheric Science by the U.S. Department of Energy for the development and application of advanced coupled atmospheric-ocean general circulation models (GCMs) to analyze the impacts of human activities on climate. Pair With: Labdisc Portable STEM Lab, Continents Kit, Ocean Current Beads Kit, Coriolis Kit, CD Spinner: Coriolis Effect Kit, Planetary Temperatures Kit, Urban Ecology Kit
Flossie Wong-Staal
A molecular biologist and virologist, Wong-Staal invented many protocols and tests, particularly related to HIV which she proved was the cause of AIDS. Her enzyme-based "molecular knife" can cut up genetic information in AIDS patients to help with treatment. Pair with: Enzyme-Substrate Interaction Kit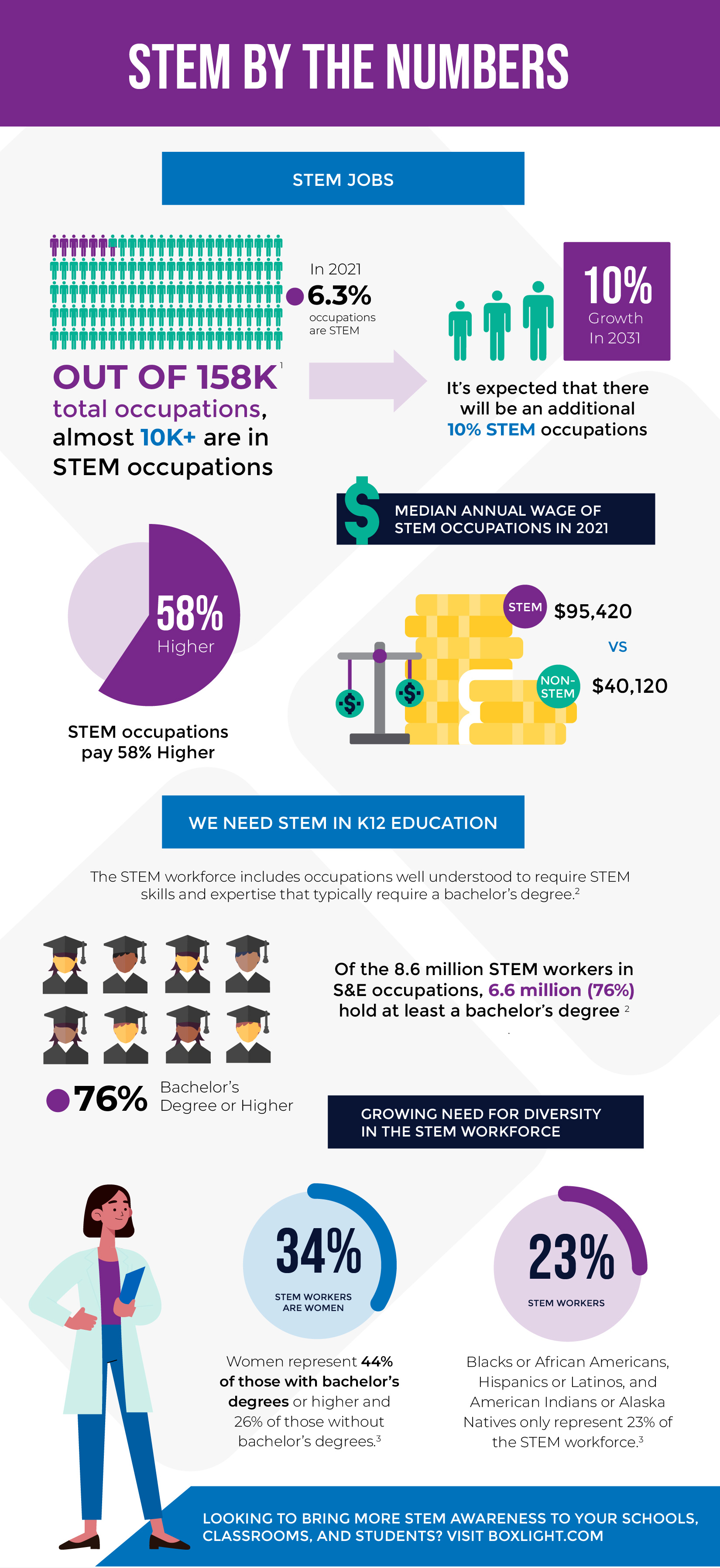 Top 10 STEM Lists for Technology, Apps, Software, and Resources
We have created lists of our favorite STEM resources, covering everything from tech to blogs.
Top 10 STEM Apps
| | | |
| --- | --- | --- |
| 1 | | VIRTUAL FROG DISSECTION: This realistic frog dissection app is interactive with 3D options for just the right amount of learning—without the smell of formaldehyde. A for purchase app with educator discount pricing. |
| 2 | | THE ELEMENTS: Visually appealing and interactive, this app is a great way to start middle or high school learners on the periodic table. For Purchase |
| 3 | | NIGHT SKY: One of the best apps for watching the night sky, this includes planets and constellations, tracking the difference over time. Free with In-App Purchases |
| 4 | | CLEVERSTORE: CleverStore has apps for just about every subject and grade level. Whether your students need help with coding, math or literacy skills; there's something here to keep them engaged and learning! |
| 5 | | TOUCHCAST: This video editing app is free and easy for students to use. They can implement green screen technology, captions, and transitions to create professional-looking projects. |
| 6 | | ZYGOTE BODY: Zygote Body is a free online 3D anatomy atlas. |
| 7 | | FINGER CAD: Although there is much more to this app than most students will be able to use, it is a great tool for letting them explore how drafting and design works. For Purchase. |
| 8 | | GEOGEBRA: A free app that includes dynamic mathematics software for all levels of education that brings together geometry, algebra, spreadsheets, graphing, statistics and calculus in one easy-to-use package. Available in the MimioMarket App on the ProColor3 interactive flat panel display. |
| 9 | | PHOTOMATH: This free award-winning app scans and solves math problems on a mobile device, with step-by-step explanations to drive learning and understanding. |
| 10 | | FRECKLE: This is a free leveled tool that students can use to help improve math skills at any level from K-8. It is easy to use and differentiate to help all students. |
Top 10 STEM Tech Products
| | | |
| --- | --- | --- |
| 1 | | MYSTEMKITS: A comprehensive library of curriculum for the MimioSTEM products, this all-in-one website provides virtual kits, STEAM design challenges, ready-to-3D print models, and hundreds of standards-driven lesson plans for 3D printing, robotics, and sensors. |
| 2 | | ROBO 3D Printers: These education-friendly 3D printers are fully enclosed, Wi-Fi enabled, and easy-to-use. From high-quality prints and user-friendly features such as flexible, heated build plates, these 3D printers allow teachers to create a wide variety of classroom resources while enabling students with the ability to engineer whatever they can imagine. |
| 3 | | LABDISC PORTABLE STEM LAB: This wireless, compact STEM lab allows students to engage and connect with science from anywhere, with inquiry-based learning in a variety of science fields. What's more, it's small enough to fit in the palm of a student's hand. |
| 4 | | INTERACTIVE FLAT PANEL DISPLAYS: Technology has changed and greatly improved. The new flat panel displays are easier to mount, use, and integrate in the classroom. With high-definition image quality on a large display, student engagement is improved. |
| 5 | | MIMIO MYBOT EDUCATIONAL ROBOTICS SYSTEM: The new robotics platform from Boxlight is extremely engaging and user-friendly. This is a great way to introduce coding and basic computer science in any classroom. |
| 6 | | DEVICES: Phones, tablets, laptops, and desktops are critical tools for learning technology. Students should have varied experiences with these devices - understanding the basics of how they work. Knowing the advantages and disadvantages of each tool is crucial. |
| 7 | | MIMIOVIEW DOCUMENT CAMERA : Perfect for demonstrations with hands-on manipulatives and close-up views of objects, our document camera is the perfect addition to any STEM classroom. Take still pictures or videos and stream them directly to your interactive display where you can take notes right on the screen. |
| 8 | | RASPBERRY PI: These tiny computers allow students to understand the inner workings of computing. They also have ports that enable users to connect a variety of peripheral devices. |
| 9 | | CALCULATOR: The must-have for any math student in this day and age is a scientific calculator. Calculators are no longer limited to a physical device but can versions can be found on the internet. |
| 10 | | MICROSCOPE: Digital microscopes (such as the one pictured) can engage younger students, and are inexpensive. There are a range of options (and costs) with this tool, so finding the right fit is important. If sharing images is all you're looking for—without the need to magnify—then a wireless document camera is probably a better fit. |
Top 10 STEM Blogs and Online Communities
| | | |
| --- | --- | --- |
| 1 | | TEACHING CHANNEL: This site is great for teachers of all subjects and age ranges. There are videos that model certain procedures and teaching techniques, and the science blog section is definitely worth exploring for those who teach NGSS. |
| 2 | | SKYVIEW: This NASA blog features up-to-date information and pictures from their latest telescopes and research. |
| 3 | | MIMIO EDUCATOR BLOG: There is more than just science articles here—these blogs cover engineering and technology areas, too. New articles are updated a few times a week, and it's a great source for ongoing professional learning and keeping up with innovative trends in education. |
| 4 | | ALICE KEELER: If you're part of a Google school and use GAFE, stop what you are doing and bookmark Alice Keeler's website/blog. She writes clearly and keeps everything up to date, making it a practical and useful tool for Google educators. |
| 5 | | FREE TECHNOLOGY FOR TEACHERS: This blog by Richard Byrne is full of resources for all different types of teachers and subject areas. Information and resources for any STEM area can be found here, but technology is the focus. |
| 6 | | DailySTEM: This online community was created by Chris Woods, High School Math teacher, and provides educators and families with simple STEM resources that connect the real world to learning, including podcasts, free lessons, STEM news, and more. |
| 7 | | STUDIO STEM: This organization provides project-based learning kits designed around solving a real-world problem. There is a collaborative component to it as well. This site is definitely worth looking into for a PBL teacher. |
| 8 | | ENGINEERS IN THE CLASSROOM: This site has a great range of STEM projects for classroom use. A joint venture between Lockheed-Martin and National Geographic, these projects are teacher-friendly and easy to implement in the classroom. |
| 9 | | THE MATH FORUM: This collaborative online group originates from the National Council for Teachers of Mathematics (NCTM). It's a great place for teachers of all levels to collaborate and find resources for their students. |
| 10 | | MATH COACH'S CORNER BLOG: This blog is a good place for ongoing information about best practices and engagement. Coming directly from a teacher, the information is relevant and practical. |
Top 10 STEM Websites
| | | |
| --- | --- | --- |
| 1 | | MYSTEMKITS: A comprehensive library of curriculum for the MimioSTEM products, this all-in-one website provides virtual kits, STEAM design challenges, ready-to-3D print models, and hundreds of standards-driven lesson plans for 3D printing, robotics, and sensors. |
| 2 | | ENGINEER GIRL: Website designed to bring attention to exciting opportunities that engineering represents for girls and women. |
| 3 | | EXPLORE.ORG: This is a great content site for both science and social studies. Vivid videos and pictures bring content to life and make it real for the students. |
| 4 | | SCIENCE KIDS: Provides educational resources for teachers and parents to help make science learning fun and engaging. |
| 5 | | ISTE: All teachers, but especially teachers of technology, should have this website bookmarked. This is the gold standard for how technology can and should be taught and implemented in the classroom. |
| 6 | | NOVA: You'll find a plethora of STEM ideas, lesson plans, and resources listed here. They are broken down by grade level, and each one includes a short description, which makes searching for something useful a breeze. |
| 7 | | HOW STUFF WORKS: This site is just plain fun—learning doesn't feel like learning because the videos are so appealing. This is a highly engaging site for students. |
| 8 | | ALICE.ORG: Alice is a block-based programming environment that makes it easy to create animations, build interactive narratives, or program simple games in 3D. |
| 9 | | VIRTUAL MANIPULATIVES: This site has online graphic manipulatives for different math concepts and skills. Although manipulatives are traditionally used in the elementary setting, this site has good resources for upper-level math as well. |
| 10 | | GREG TANG MATH: This is a great site for elementary math—the Kakooma game is excellent for engaging students. |
Top 10 STEM Events
| | | |
| --- | --- | --- |
| 1 | | REGENERON INTEL ISEF STUDENT SCIENCE AND ENGINEERING FAIR: This is an international collection of pre-college students who compete with one another in the areas of science and engineering. Even if competing may seem out of reach, the site shares the winners and winning projects which can get students' minds thinking about what they could accomplish. |
| 2 | | NSTA CONFERENCES AND EVENTS: Learn and connect with STEM peers at in-person conferences and virtual events. |
| 3 | | HOLIDAY CARD PROJECT: This is a simple holiday project that allows students to use technology to collaborate. This is just one example of many different global learning opportunities available for students. |
| 4 | | DRONE COMPETITIONS: Because of their low cost and high levels of engagement, drones are in more and more classrooms. Check out this event, which helps to organize and prepare competitions for different grade levels from 4th–12th. |
| 5 | | ISTE: The ISTE conference is the gold standard for professional learning and networking. If it is possible to go, it's a can't-miss opportunity for all STEM teachers. |
| 6 | | CARDBOARD CHALLENGE: This is a student engineering project that has a really cool backstory. It's a simple concept that can go in many directions for students—all of which require critical thinking and problem-solving skills. |
| 7 | | DISCOVERE: Working with over 100 organizations, DiscoverE unites and supports engineering and technology volunteer communities in order to bring educational programs—such as Girl Day, Future City, and Global Day—to K–12 students. |
| 8 | | NATIONAL SCIENCE BOWL: A nationwide academic competition that tests students' knowledge in all areas of science and mathematics. |
| 9 | | PI DAY: March 14th, or 3.14, has become known as Pi Day. Celebrating this day in school not only reinforces what pi (π) is, but also makes math fun—often by including pie! |
| 10 | | MATHCOUNTS COMPETITION: This national math competition, sponsored by Raytheon, can be started at the local level without much cost. The national scale of the competition helps middle school students know where they stand nationally when it comes to the area of math. |
Top 10 STEM Software Solutions
| | | |
| --- | --- | --- |
| 1 | | MIMIOCONNECT BLENDED LEARNING PLATFORM:Combine innovative lesson building and instructional tools to create an active learning environment. Teachers and students can connect from anywhere, making this a perfect solution for any learning environment - online and in-class. |
| 2 | | WOLFRAMALPHA: This site is multi-purpose and suited for a variety of uses. It is part calculator, part search engine, and part almanac—the pro version is well worth the money. Students of all ages will find useful information, along with the ability to sort and filter amazingly specific data sets. |
| 3 | | GLOBILAB: This flexible software is included with the Labdisc Portable STEM Labs, and allows the data collected with the Labdisc to be organized into charts and graphs. Add markings and notes, generate lines of best fit, or export the data directly into a spreadsheet file for further analysis. |
| 4 | | CANDY: Edit images online with a complete toolkit and is 100% free. Great for creating visuals for any STEM project. |
| 5 | | MICROSOFT OFFICE AND GOOGLE FOR EDUCATION: Whether it's Office 365 or Google Docs, students need to have word processing skills. Both of these software options can teach students the basics so they can adapt and change to the future world. |
| 6 | | MIMIOSTUDIO: MimioStudio classroom software allows educators to create interactive STEM lessons and collaborative activities. Teachers can perform real-time formative assessment and adjust instruction to better meet students needs. |
| 7 | | TINKERCAD: This free browser-based software is the perfect introduction to 3D modeling and design. With a simple, user-friendly interface and advanced teacher controls, it is a must have for design classes. The MyStemKits STEAM design challenges teach students how to use this software. |
| 8 | | ADOBE EXPRESS FOR CREATIVE PROJECTS: Adobe Express is available on mobile and desktop devices - including Chromebooks, iPads, and smartphones - and offers users image and video editing capabilities for projects, presentations, ideas, and more. |
| 9 | | AUTODESK FUSION 360: - A full-powered CAD software regularly used in various industries, this is the perfect software for high school engineering courses. It is free to educators and the perfect way to provide your students with workplace ready skills. |
| 10 | | MAPLE: Maple Student Edition offers students an interface to work with math and science problems. The math graphics are interactive and colorful, and the software is ideal for upper-level high school math classes. |
Top 10 STEM Resources for Robotics and Coding
| | | |
| --- | --- | --- |
| 1 | | HOPSCOTCH: Designed for ages 8–11 and excellent for beginner programmers, Hopscotch is a free iPad app that uses video tutorials to teach students how to code popular games. Kids can then play games created by other users with the app. There are also resources for educators, such as lesson plans and transition guides. |
| 2 | | KODABLE: This program provides a tool for coding in the classroom with over 49 free levels of exploring. It is recommended for ages 5+ and is both iPad and web-based. Their comprehensive curriculum focuses on group and independent practice activities that build creativity, collaboration, and communication. |
| 3 | | CODE.ORG: If you're looking to integrate coding in the classroom, Code.org provides courses built from curriculum that contains lesson plans, handouts, offline activities, videos, and online tutorials. Using a teacher dashboard, lesson activities can be assigned, activities can be monitored, and sharing permissions can be set. The activities provide a mix of online independent practice, discussions, and unplugged group activities. The Computer Science Fundamentals provide educators with many flexible courses to use with students. Plus, they provide Hour of Code tutorials for beginner coders. |
| 4 | | SCRATCH: This project from MIT's Lifelong Kindergarten Group teaches math, programming, and creative expression through technology. Students can create animations, games, and models that communicate artistry and learning. The application is split into three sections on the screen. In the middle, students can see available drag-and-drop programming blocks. On the right, students can program and edit the appearance of various sprites (characters) that the program provides or use one of their own. On the left, students can see their coding work in action. Scratch meetups are hosted in many different states and provide opportunities for Scratch educators to meet and share ideas and resources. Check out Scratch Day, a yearly gathering of students, parents, and teachers to share Scratch ideas and participate in various activities. |
| 5 | | MIMIO MYBOT EDUCATIONAL ROBOTICS SYSTEM: The robotic opportunities are endless with the Mimio MyBot system. Students can build a variety of robots, connect them to a browser, and code with a simple drag-and-drop interface. Educators have access to on-device materials such as tutorials, videos, user guides, and programming guides. |
| 6 | | MYSTEMKITS: A comprehensive library of curriculum for the MimioSTEM products, this all-in-one website provides virtual kits, STEAM design challenges, ready-to-3D print models, and hundreds of standards-driven lesson plans for 3D printing, robotics, and sensors. |
| 7 | | GOOGLE CS FIRST: This site provides students aged 9–14 with activities that introduce computer science and programming through Scratch. Different themes such as animation, sports, game design, storytelling, and art engage students with video tutorials and practice. Each theme includes eight activities and about 10 hours of content that can be spread out over several days or weeks. It is ideal for computer clubs and/or courses. They also offer various Hour of Code activities such as Create Your Own Google Logo, Animate a Name, and High Seas Activity. CS First earned an ISTE Seal of Alignment for addressing the ISTE Standards for Students. |
| 8 | | MACHINE LEARNING FOR KIDS: Find projects to introduce students to the concepts of machine learning and artificial intelligence using the Scratch block-based coding language and MIT App Inventor. Users sign up for a free account from IBM Cloud to get access to Watson, the question-answering computer system. Machine Learning for Kids provides step-by-step instructional guides for creating various data sets to train the AI. Students can then see the machine learning in action as it runs through the Scratch interface. |
| 9 | | TYNKER GAMES: Teach your elementary students coding concepts with a focus on activities for grades K-8. Tynker has a comprehensive curriculum, STEM courses, and classroom management tool built right in. They also offer free training for schools. |
| 10 | | UNPLUGGED CODING ACTIVITIES: These do not require the use of a computer and are a great way of introducing coding concepts before students use the computer. Codespark Academy provides various unplugged activities such as Make Your Own Foo and Design a Comic—these activities are provided to educators with a free account. CS Unplugged is a collection of free learning activities that teach computer science through engaging games and puzzles that use cards, string, crayons, and student movement. |
Top 10 STEM Resources for Space
| | | |
| --- | --- | --- |
| 1 | | ALDRIN FAMILY FOUNDATION: AFF strives to cultivate the next generation of space leaders, entrepreneurs, and explorers who will extend human habitation beyond Earth to the moon and Mars. Their STEAM-based educational tools, curriculum, and programs span from a child's first classroom experience through graduate school and professional programs. |
| 2 | | MIMIO MYBOT AND GIANT MOON AND MARS MAPS BUNDLES: By integrating ShareSpace's Giant Moon Map™ and Giant Mars Map™ programs with the Mimio MyBot educational robotics system, STEM educational activities have never been more fun and rewarding. Through the use of these highly accurate, large scale floor-sized maps, students are introduced to information about these planets, and learn about map reading, evaluating and understanding topographic information, geology, how planets form, and the effect of impacts on these celestial bodies. |
| 3 | | THE SPACE FOUNDATION: The Space Foundation is the world's premier organization to inspire, educate, connect, and advocate on behalf of the global space community. This foundation is a nonprofit leader in space awareness activities, educational programs, and major industry events, including the annual Space Symposium held each April. |
| 4 | | STUDENT SPACEFLIGHT EXPERIMENTS PROGRAM (SSEP): Launched in June 2010 by the National Center for Earth and Space Science Education, this initiative typically gives more than 300 students across a community the ability to design and propose real microgravity experiments to fly in low Earth orbit, first aboard the final flights of the Space Shuttle, and then on the International Space Station (ISS)—America's newest National Laboratory. |
| 5 | | NASA SPACE PLACE: This site inspires and enriches upper-elementary-aged kids' learning of space and Earth science through fun games, hands-on activities, informative articles, and engaging short videos. With material in both English and Spanish as well as resources for parents and teachers, NASA Space Place has something for everyone. |
| 6 | | AMAZING SPACE: This space telescope education program promotes the science and beauty of the universe to the education community. Developed for educators and students of all ages, the materials are accurate, instructionally sound, engaging, and carefully crafted to adhere to educational standards. These educational resources are based on the Hubble and James Webb space telescopes. |
| 7 | | NASA APP: This app does a wonderful job of teaching students about space. It has over 15,000 images and the latest news within astronomy, along with an extensive amount of space resources, images, and information. You can also view over 13,000 NASA videos, check out upcoming sighting opportunities, and watch live NASA TV. |
| 8 | | SOLAR WALK ADS+: You can use this free interactive space encyclopedia app to view a detailed and attractive 3D model of our solar system, allowing you to navigate easily through the universe. You can also explore all the planets in real time, check out their current positions, and learn interesting facts about each of them. |
| 9 | | MCDONALD OBSERVATORY ACTIVITIES: These engaging, aligned activities create opportunities for K-12 students to explore astronomy, physics, and chemistry in the classroom. |
| 10 | | MYSTEMKITS: Within the MyStemKits collection of 3D-printable, robotics, design, and coding activities you'll find a vast collection of space-themed activities. From to-scale models of the Solar System to design challenges for 3D printing Rover Wheels to add to your MyBot robot, you'll find hundreds of engaging, standards-driven lesson plans and resources. |
Top 10 Resources for STEM Funding
Money in public education is tight, and a lack of financial resources can mean limited opportunities for STEM learning. Searching for funding can be incredibly time-consuming, so we've made it a bit easier by showing you where to look. Check out these funding opportunities, which you can take advantage of to enhance STEM learning in your classroom:
| | | |
| --- | --- | --- |
| 1 | | STEMFINITY: A one-stop resource for all things STEM, STEMfinity has taken the time to find over 1,000 grant opportunities throughout the United States, which can easily be searched by state. |
| 2 | | GRANTWATCH: On GrantWatch, educators can find federal, state, city, local, and foundation grants all in one place. The grants are categorized by type (i.e., teacher grants, science, technology, etc.) and frequently updated. |
| 3 | | DONORSCHOOSE: On this site, teachers post what they need for particular classroom projects. A donor can choose to help fund the project—when the project reaches its goal, the website sends the materials directly to the school. The program supports K-12 classrooms, as well as public charter schools, in all 50 states across America. |
| 4 | | AFTERSCHOOL ALLIANCE: Afterschool Alliance has gathered an array of funding opportunities specifically for STEM education—from federal agencies, corporations, foundations, and more—along with resources to help you better understand the various types of funding available. |
| 5 | | DIGITAL WISH: Looking for new classroom technology to help further your STEM curriculum? Digital Wish works like a gift registry—simply build a wish list of tech products, let prospective donors know how it will help your students, and start fundraising. They also have a separate area for grants with a calendar of deadlines so you won't miss out on funding opportunities. |
| 6 | | GRANTS.GOV: This site allows educators to search and apply for federal grants. Teachers can easily search for STEM grants by plugging in a keyword or clicking on the category that best matches their needs. |
| 7 | | STEMGRANTS.COM: This site offers a free guide to over 100 grants for STEM learning, listed by deadline for easy reference. They also have resources to help you write proposals, funding news, and a variety of STEM resources and tools. |
| 8 | | BOXLIGHT EDUCATIONAL FUNDING GUIDE: Investments made today will impact education decisions well into the future. Our Educational Funding Guide can help you in your decision-making process. |
| 9 | | U.S. DEPARTMENT OF EDUCATION: Our government recognizes the need for today's students to learn vital STEM skills so that they can be prepared for tomorrow's jobs. Here, you'll find out more about the DOE's focus on STEM along with funding opportunities to help you bring STEM into your classroom. |
| 10 | | THE JOURNAL: This is a great magazine that looks at the different technologies used in K-12 schools. They publish several eNewsletters that include a grants section, and post regularly updated listings of funding opportunities for STEM education right on their site. |
Top 10 STEM Resources for Girls
This list is a little different from the others as it focuses on STEM resources aimed at girls, many of which cover all four topics within the world of STEM. Women are underrepresented in these fields, so it's critical that we show girls they are just as capable as their male counterparts when it comes to STEM professions.
| | | |
| --- | --- | --- |
| 1 | | NATIONAL GIRLS COLLABORATIVE PROJECT: This organization works to inform and encourage girls to pursue careers in STEM fields by expanding and strengthening STEM-related opportunities for girls. The organization has a ton of valuable resources including events, girl-focused STEM programs, local groups, and ways to connect with other partners. |
| 2 | | CARNEGIE STEM GIRLS: This comprehensive site offers activities and resources for students, parents, and teachers that are designed to get teens excited about STEM. There are also after-school programs and opportunities available to help girls envision the possibilities for careers in STEM fields. |
| 3 | | FABFEMS: This website hosts a directory of women in STEM professions, known as FabFems. The directory aims to connect these inspiring females to young women, girl-serving STEM programs, and other organizations that are working to increase career awareness and interest in these fields, giving girls the opportunity to have STEM role models they can truly relate to. |
| 4 | | GIRLS INC.: This organization delivers life-changing programs that inspire girls to be strong, smart, and bold. Serving girls aged 6–18 in 400 cities across the United States and Canada, Girls Inc. helps girls to value their whole selves and develop the strength to achieve academically, lead healthy lives, navigate barriers, and discover an interest in STEM fields. |
| 5 | | GIRLS WHO CODE SUMMER IMMERSION PROGRAM: This free summer program gives girls the opportunity to learn computer science through real-world projects, participate in workshops, and connect with females in the field. Even better, Girls Who Code partners with some of the hottest tech companies in the world, giving 10th and 11th grade girls the chance to learn coding while gaining exposure to tech jobs. |
| 6 | | GIRLSTART'S GIRLS IN STEM CONFERENCE: In order to boost interest and engagement in STEM for girls, Girlstart offers comprehensive year-round programming to foster STEM skill development—helping to spark future interest in STEM careers. This unique annual conference features hands-on workshops for girls in the fourth through eighth grade led by women in STEM professions. |
| 7 | | GIRLS THINK OF EVERYTHING: This book, written by Catherine Thimmesh, details the incredible inventions by women and girls that have made our lives simpler and better. It provides a great insight into what inspired these women, how they turned their ideas into reality, and how readers with great ideas can start inventing themselves—including a list of organizations to help them get started. |
| 8 | | INTRODUCE A GIRL TO ENGINEERING: Introduce a Girl to Engineering, or Girl Day, is a time when volunteers, educators, and others act as role models, facilitate engineering activities, and show girls how engineers change the world. |
| 9 | | SMART ADVENTURES MISSION MATH 1 | SABOTAGE AT THE SPACE STATION: This space-themed app is aimed at boosting confidence in math for girls ages 9 and up. Featuring integrated STEM content, users explore a space station as they solve puzzles by putting their math skills—from fractions to volume and mass—to use. |
| 10 | | DAISY THE DINOSAUR: If you want to introduce basic computer programming to your kids, this iOS app is amazing. The object of the game is to do drag and drop coding to make Daisy the Dino jump, turn, shrink, and spin. It's also a great conversation starter about how apps are made possible through programming! |
How to Create STEM-Focused Lessons

Denise Scribner, Science Teacher: Winner of Presidential Awards for Excellence in Mathematics and Science Teaching, Denise has been teaching since 1976. She has spent the past nine years at Eisenhower High School in Goddard, Kansas, teaching ecology, biology, and forensic science to grades 9–12.
First, let's do a quick rundown of the STEM acronym:
SCIENCE: The study of the natural world.

TECHNOLOGY: One surprise: The STEM definition for technology includes any product made by humans to meet a want or need. Under the STEM definition, a chair is technology—and so is a pencil.

ENGINEERING: The design process students use to solve problems.

MATH: The language of numbers, shapes, and quantities that seems so irrelevant to many students.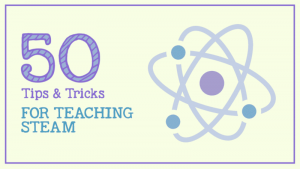 New to this mix is the addition of A for art or agriculture in the classroom to create STEAM, by which the power of learning is enhanced (much like water is changed to steam, creating energy). After all, art makes you think, look, and feel—all of which are needed for innovation. Why agriculture? Because we need it to survive, of course! If you eat, you need agriculture. If you wear clothes, you need agriculture. If you take medicine, live in a house, or write with a pencil, you need agriculture.
So, I put it to you to convert your thinking to STEAM rather than STEM when tweaking your already great lesson plans in order to create STEAM-focused lessons. Here are six ideas on ways this can happen: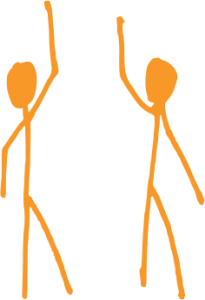 1. STEAM lessons involve teamwork
Teamwork is a 21st century skill that corporations are looking for when hiring new employees. Create grading rubrics that enhance the use of each student's skill set during a group assignment, rather than just checking off a task as completed. For example, have a worksheet where each member of the team must explain their role and check off the key elements they personally contributed as part of the assignment. This will not only reduce the number of papers you need to grade (with a group rather than an individual's work), but will also help to enforce the idea that when a team works together, great things can be accomplished—including a good grade.
2. Incorporate hands-on learning
STEAM learning must include hands-on inquiry and open-ended exploration. Like a guide through the wilderness, a teacher's lesson content should first guide their students through the maze of the unknown and then allow their students to control their own ideas and design their own investigations to apply the newfound knowledge. In that way, critical thinking skills are developed.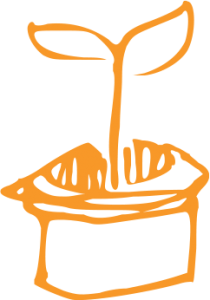 3. Make it relevant
It is important to remember that when planning STEAM lessons, you also need to focus on real-world issues and problems. Students must understand the issue first to learn basic concepts, and then apply the concepts learned in order to innovate. Innovation is another 21st century skill that makes an individual highly valued in today's workplace. Visit MiddleWeb for some suggestions of real-world projects students might focus on.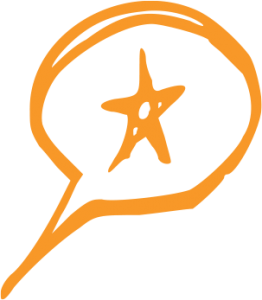 4. Turning failure into a positive
Teachers should retool their lesson planning to include failure as a necessary part of the learning process. Parents, teachers, and even your students often see failure as a negative act. But truth be told, the act of failing creates an opportunity to develop tenacity, grit, and perseverance. Not every student is the golden athlete or wonder mathlete, yet their unique skill sets are equally as important when problem solving. I like to use the word FAIL as a positive thought acronym: FAIL is the First Attempt In Learning. Don't ignore the F grade, embrace it to create and develop a solution so that students accept and learn from them and try again. The lesson focus is on developing solutions to persevere, not just content knowledge.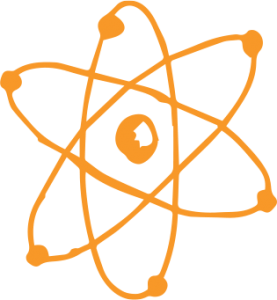 5. Weaving math and science into your lessons
Don't forget that STEAM lessons should also apply rigorous math and science content. Plan time to collaborate with other math and/or science teachers to gain insight into how course objectives can be woven into one of your lessons. Students can then begin to see that science and math are not isolated subjects, but work together to solve problems—adding relevance to math and science learning.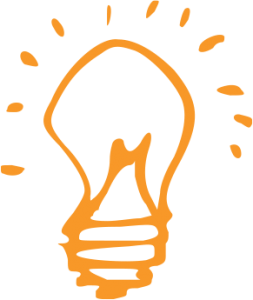 6. Get creative
Use art or agriculture to engage your students in math, history, science, or even music concepts. For my high school students, I like to use art by having my students create emoji-style picture icons to remember a concept, followed by a correctly structured complete sentence definition. Another example is when I ask my ecology students to explain the processing of a particular recycled product using a storyboard or graphic novel depicting a superhero or villain rather than a research paper. Music can involve agriculture when students learn songs (and the history behind those songs) that field workers sang to help with their task, or a ballad that describes a historic event. Mathematics can interweave agriculture with students calculating the square footage of a field, the percentages of nutrients that need to be placed into the soil, or how much profit is gained from the sale of harvested wheat versus the expense of planting the wheat. It's all in the approach and not just the content.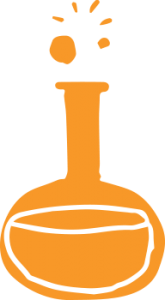 Put It All Together
To start down that path of innovation, I assemble my students into cooperative groups of no more than four. Their task is to define innovation in one of the following ways: a sentence, a list of ten words, a pictorial representation, or another way of their choosing. This way, they work as a team (idea #1), control their way to solve the assignment (ideas #2 and #3), and include creativity (idea #6) immediately. Each group then displays their work in a gallery for the entire class to view during a gallery walk to see what the other groups developed.
Next, the students view a video about innovation. During the video, I have the students write down each innovator's name, what they do, and something they said that engaged them. Did any of what the innovators said match your students' gallery walk of ideas? Probably. I then ask students to share what innovations in biology, ecology, or any topic they can name. You are now on your way to engaging STEAM into the classroom.
Becoming STEAM-focused is a simple concept of innovation. Become an innovator and take the challenge!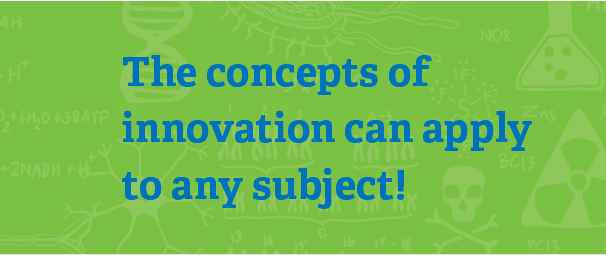 How we at Boxlight take Denise's Strategies to Heart
Our STEAM curriculum platform, MyStemKits.com utilizes all of these methods to create engaging, hands-on learning experiences. Driven by the standards and by cutting-edge research, our collection of hundreds of STEM and STEAM lesson plans feature everything you need to implement STEM successfully. By creating interdisciplinary activities that tackle real-world problems, students get to see the concepts in action and draw connections to challenges facing our world today. Each lesson includes in-depth Teacher Guides, Student Handouts & Assessments, Programming and/or Design Procedures, and ready-to-print 3D models (where applicable). With content developed for 3D printers, virtual learning, robotics, and sensors, there's something for everyone.
"Mathematics is one of the essential emanations of the human spirit, a thing to be valued in and for itself, like art or poetry."
Oswald Veblen
Top 3 Considerations When Selecting Robotics for Your STEM Activities

Author Stephen Barker, VP of STEM Education at Boxlight: Stephen Barker is the VP of STEM Education at Boxlight, which provides the Mimio MyBot educational robotics solution. Stephen has more than 30 years of experience in robotics and technology innovation.
Robotics has become a popular activity for incorporating STEM in the classroom. Among other things, robots are engaging, eye-catching, dynamic, and more interesting than a book for capturing and holding a student's attention. Unfortunately, the vast majority of classroom robots end up being little more than toys made to drive to and fro or side to side without really providing an opportunity for any scientific exploration and learning. When selecting robotic products to introduce in the classroom, it is important to look at the overall educational value of the system—particularly with regard to how it can be used to promote scientific exploration and learning together with the application of mathematic principles.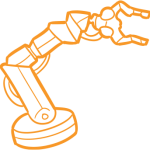 1. Not all robots have wheels
The vast majority of robots at work in our world today are not vehicles, but automated manufacturing machines—conveyor belt systems that perform things like quality inspections and order fulfillment. Robots—or mechatronic systems, to be more accurate—include any system which integrates sensing devices with a computing platform and the ability to affect changes on the environment it is monitoring.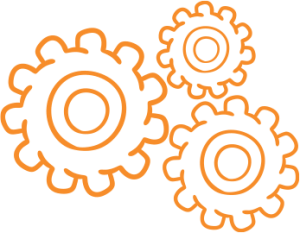 2. Does the system provide an opportunity to master STEM principles?
Another caution when selecting equipment and curricula to promote STEM education is to make sure that it provides an opportunity to actually use, master, and apply scientific and/or mathematic principles into the problem-solving nature of the activities. Too often, a device that uses a processor and sensors will be offered for STEM education, but the students are limited to simply using the device without the opportunity to apply their knowledge to problem resolution. These limited systems may be inviting, but their educational value ends up being limited to observation and not engagement.
"If the robots are going to take over your job, you ought to be learning to control and program the robots."
Stephen Barker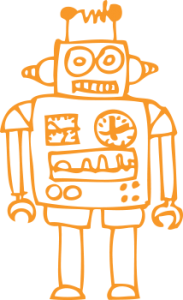 3. What sensors are provided so you can expand the areas of study?
Again, you want to ensure that the robots you bring into the classroom offer an educational experience rather than just being toys. Here are some examples of sensors to look for and how they can be used in STEM activities:
High-resolution color sensors that can be used to explore the optical spectrum and experiment with the reflective, transmissive, and absorptive qualities of different materials.

Axis gyroscopes, which measure angular movement in the axes and can be used to move along a fixed heading while monitoring side-to-side tilt and front-to-back pitch, enabling course correction should the robot begin to tip or approach a steep incline.

Magnetic compass, which enables the robotic system to find magnetic north and can report changes in velocity in the different axes.

Optical and ultrasonic distance measurement for exploration of the speed of light and sound, as well as the ability to sense objects in the robot's path for automatic collision avoidance.

Infrared light detection and location, which expands on light and color experimentation by moving into the non-visible part of the spectrum.

Ambient light sensors to explore physical phenomena regarding light, including coherency and loss over distance due to areal diffusion.

Magnetic field sensors to locate and measure magnetic fields, providing a hidden target for an autonomous robot hide-and-seek game.
A good example of a robotics system that promotes STEM education is the Mimio MyBot, especially when coupled with the Mars Exploration Bundle developed in conjunction with ShareSpace Education, a key program of the Aldrin Family Foundation. This bundle combines a powerful robotics control system with a rugged aluminum build system, a variety of different sensors and measurement devices, and a highly detailed floor-sized map of the planet Mars. Measuring over 600 square feet, the map is colorful, highly unique, and captures students' attention. Using the map, lessons involving physics, geology, and geography become more engaging—even more so as the students start using the robots to explore and analyze the Martian surface. Our world today is increasingly dependent on technology, and the future workforce will embrace candidates who have the ability to not just use STEM products, but who have developed true STEM skills: the ability to apply their knowledge of science, mathematics, and technology to solve new problems. This new generation of skilled workers will have the ability to develop new and better technology solutions to solve tomorrow's problems. As the saying goes, "If the robots are going to take over your job, maybe you ought to be learning to control and program the robots."
"We're fascinated with robots because they are reflections of ourselves."
Ken Goldberg
Top 10 Considerations When Selecting a 3D Printer for Your STEM Activities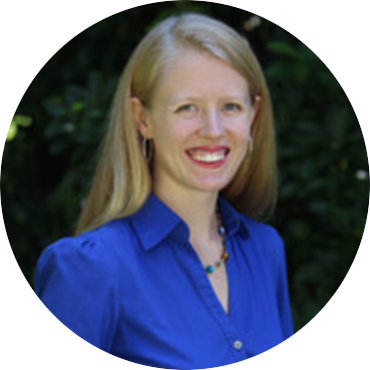 Hannah Olson, Product Manager and Co-Founder, MyStemKits.com
Hannah Olson is part of the MimioSTEM team at Boxlight, fell in love with 3D modeling, or the process of building/sculpting objects in 3D space while attending one of the finest film schools in the nation – Loyola Marymount University in Los Angeles. When she graduated at the top of her program, Hannah heard of an idea that was just starting in Florida and moved across the country to start what would become MyStemKits.com. Although it was nothing like building the epic dragons she had envisioned, it was a chance to give back and do something that really made a difference.
The first step to integrating 3D printing into your curriculum is choosing the right 3D printer. The MyStemKits platform works with over 75 different types of 3D printers so that our game-changing educational manipulatives are available to as many people as possible. Here are a few things to consider when deciding which printer you want to purchase.

1. WHAT IS MY BUDGET?
3D printers range from $200 to $9000+ depending on what features you want. The cheaper printers often have inferior parts, require assembly, and must be connected to a dedicated computer at all times. The more expensive printers are often larger with the ability to create objects in more detail. For typical classroom use, we suggest spending between $800 and $2000 on your printer to get a quality machine from a reputable brand. As of spring 2019, the Robo E3 is listed at $999.99.

2. HOW LARGE OF A MODEL DO I WANT TO PRINT?
For most classrooms, we suggest getting a printer with a build volume that is at least 5.5" or 140mm cubed to accommodate most objects. If you're wanting to print larger objects, you may want to look into a printer with a larger build volume. Remember that many large objects can be printed in parts and assembled afterwards. The MyStemKits website provides part sets which are optimized to accommodate both small and large printers. The Robo E3 has a 5.9" / 150mm cubed build volume.

3. WHAT KIND OF RESOLUTION DO I NEED?
For education, you don't need to print things in super high-detail, so we suggest getting a printer with a layer resolution capable of at least 0.2mm to 0.35mm. (200 to 350 microns). The Robo E3 has a 0.1 – 0.4mm layer resolution. (100 – 400 microns)
4. DO I NEED A HEATED BUILD PLATE?
For most educational purposes, the answer to this question is no. However, having one will make your life significantly easier as a heated build plate reduces print issues and allows more types of filament to be printed. The Robo E3 has a heated build plate.

5. DO I NEED A FLEXIBLE BUILD PLATE?
A flexible build plate will save a lot of time in removing prints from the printer so you can focus on teaching. Simply bend the build plate to pop off the print rather than try to scrape it off with a tool. Many printer companies provide this as an optional add-on feature for an additional price. The Robo E3 comes standard with a flexible, heated build plate.

6. IS IT FULLY ENCLOSED?
This is especially important in the younger grades, but has benefits at all ages for safety. Moreover, a fully enclosed printer allows for a greater variety of filament types to be printed and will increase print quality. The Robo E3 is fully enclosed.

7. DO I NEED TO CONNECT TO THE INTERNET?
If you're going to use MyStemKits.com, the answer is yes. The ability to connect to the internet is also useful for student designing and sending prints directly from Chromebooks, computers, and other smart devices to save time and effort. The Robo E3 is Wi-Fi and Ethernet enabled and can connect directly to MyStemKits using a simple token.

8. DOES THE PRINTER HAVE AN OPEN OR A CLOSED FILAMENT SYSTEM?
Many printer companies will void the printer warranty if you use filament that is off-brand, forcing you to use their typically-overpriced filament rather than more affordable alternatives. An open filament system means the printer company invites you to use any filament compatible with the printer. The Robo E3 has an open filament system.

9. DOES IT COME WITH EDUCATIONAL TOOLS?
Only a handful of 3D printers offer any educational models or packages, and usually are additional cost. However, if you're looking to integrate the 3D printer seamlessly into your curriculum, ready-to-go curriculum will save you a lot of time and headaches. The Robo E3 includes a MyStemKits Starter Package for you to print up to 20 kits and use their corresponding lesson plans.

10. DOES IT INCLUDE TRAINING?
Learning how to use and integrate your 3D printer into your curriculum will take more than just a simple "unboxing" video from a 3D printer company. Make sure whatever 3D printer you purchase provides tools to assist in setting up and integrating the technology into your teaching. The Robo E3 includes a 2-hour online Professional Development training on integrating 3D printing into education complete with videos and quizzes.
Hear What Education Leaders Are Saying
Listen to our conversations with education leaders as they discuss how technology and the design of the learning environment impact student success and motivation. Real stories. Real insights. Real leaders.
PODCAST
Motivating Young Women Into Stem Careers
We'll take a look at the current situation and offer some key strategies to use … with Hannah Olson, Co-founder of MyStemKits.com. Thank you Boxlight for introducing us to Hannah.
PODCAST
Motivating Young Women Into Stem Careers
We'll take a look at the current situation and offer some key strategies to use ... with Hannah Olson, Co-founder of MyStemKits.com. Thank you Boxlight for introducing us to Hannah.
PODCAST
Robots in the Classroom and on the Red Planet
Jim Christensen, Executive Director of the ShareSpace Foundation
PODCAST
Making Robotics Easier to Implement in STEM Classrooms
Travis Rink, Boxlight Educator Advocacy Leader
Branching Off From the "STEM"

Kelly Bielefeld, Principal: Kelly has 13 years of experience as an elementary school principal. He holds a Bachelor of Science in Secondary Education from Kansas State University, along with a Master's Degree in Educational Leadership and Administration from Wichita State University.
When we discuss STEM classes and content, by their very nature, we are talking about multiple cross-curricular concepts. Engineering is math and math leads to technology, which requires science, which is what engineers study, and so on and so forth. So why should we consider how STEM concepts can branch out even further into our classrooms? The answer to this question flows in two directions. First, students learning math and science must know that they are not learning in a vacuum. There are implications to how products are designed and marketed—not just how they are engineered. As students learn and understand this, they broaden their understanding of what the ultimate goals of learning about math and science are in the first place: to improve the lives of others. As I said, the answer flows in both directions. The students with a strong proclivity to learn in STEM fields need their view broadened, but those who are on the outside looking in can see STEM content in a different light through cross-curricular learning. Who knows - these students might even find their niche in the STEM world and can pursue a career in that area.
The Relevance of STEM
As a teacher, this might seem like a challenging and daunting task to undertake. You may think you don't have enough time to teach math as it is, so how are you going to teach it in a cross-curricular model? I would contend that teachers actually have more instructional time when using this model than less, although it usually requires more prep and planning at the start.
Here are some unique ideas for how teachers can branch off the STEM and help students to consider how relevant these topics are:

DESIGN: More and more, this is becoming a critical area of production. Through 3D printing and advanced tooling, companies can make almost any kind of contraption in any color and any style. The students in the art classroom really should work with students in the engineering classroom to discuss and plan designs. Both disciplines have a lot to learn from one another, and collaboration will produce better products in the end.
TECHNICAL READING AND WRITING: Students who love writing will love the challenge of technical writing. Descriptions must be clear, concise, and full of technical language and jargon—this can make some technical reading exceptionally hard for students. Again, this can be a perfect opportunity for a science student to provide a description of a lab process to another student, who is tasked with creating a description of it.

CAREER AND TECHNICAL EDUCATION: Many CTE classes are STEM classes, but not all. Other areas, such as family and consumer sciences as well as health and medical fields, overlap with STEM content, but also stand on their own. The math required in these classes is at a higher level and a perfect place for teachers to show relevance to students. It also shows students in CTE classes how important math and science skills are—especially if they don't already realize it.

MUSIC: There is a lot of great research on how learning music helps students with reading and math. The patterns and thinking required easily transfers to math. But for kids who love music and aren't as into STEM classes, music can be the link to learning more about these fields. For example, one of my teachers used a Makey Makey with potatoes to create a mini piano. Not necessarily something to do for the sake of creating great music, but by marrying the two together, it is possible for students to learn a little bit from both areas and discover how each can work together.

DATA: Data can be part of a math class or part of a technology class, but it can also be part of many other classes. Data itself isn't really an area of standalone content, but it is something that all students need exposure to. Whether it's data in a weightlifting classroom, data from a science lab, or even data from practice after school, both math and technology can help students to understand and make sense of it.
There are many ways to make STEM relevant and meaningful for students—this list is not exhaustive by any means. The idea of STEM concepts branching out into other content areas around the school is one worth exploring for all teachers, both STEM and otherwise. The reality is that the careers of the future will require skills that overlap in all of these areas. STEM already crosses curricular areas if done correctly. Instead of adding a bunch of letters to the acronym, teachers can just know that STEM touches almost everything that students do. Through proper planning and creative thinking, students from all different interest areas can learn more deeply about how the content areas intersect. STEM classes that we already have can sprout and grow "branches" throughout the entire school.
Ready to Get Started?
There are many ways to incorporate STEM into the classroom, so it's important to find the one that works best for both you and your students. After all, the goal is to spark interest and engagement in order to show as many students as possible how rewarding and exciting careers in these fields can be. Career growth in STEM isn't slowing down, so it's imperative that we prepare our students today for the jobs of the future. The STEAM Design Challenges available on MyStemKits.com are the perfect place to start with this. Connected to a variety of STEAM careers from aerospace engineers and naval architects to interior designers and film directors, these design challenges help students learn technical design skills, creative problem-solving, and grade-appropriate math and science skills. Moreover, you'll find a lot of fun interdisciplinary topics covered throughout the MyStemKits lessons, including lessons on biotechnology & ethics regarding CRISPR gene-editing and history, science, and code-integrated activities using Morse Code and our MyBot robots.